As a branch we produce a Newsletter that is sent to members and ante-natal groups twice a year. We publish a number of articles in this newsletter to help you as parents. We also use our Facebook page to get messages to you throughout the year. We are here as a group to help you as parents get through those first three years of being a parent, to share our experiences and be a support network within the local area. To enhance this we will be sharing some of our experiences with you in this editorial as well. Here's my story from this summer, I hope you enjoy it...
Holidays and how Baby-wearing saved mine.
I have two sons, one extremely excitable Labrador, a capable and loving partner and no driving licence. Not one, between us, we are that rarity of a couple who doesn't drive.
Each school holiday we pack up to visit my partner's family at the other end of the country, and off we pop courtesy of virgin trains, all five of us, and two suitcases… it is exactly as stressful as it sounds!
The pooch can't sit in the carriage with us, he tries to make friends with everyone he sees, utterly harmless and loving, but somewhat hard to handle, so he sits in the lobby area with my partner. This leaves me with the two boys. My eldest is 12, a great age, helpful and chatty with only some of the teen hormones flying. The youngest is 14 months, mobile, vocal and not happy to sit for too long.
Last year I had the boys and a pram to handle while Daddy looked after the suitcases and the dog. Baby slept for 90% of the trip, the eldest played on his DS, I caught up on my reading and ate chocolate. The only issue was the pram, it took up huge amounts of space and was impossible to lift while juggling the baby and then got blocked in by the tonnes of luggage that joined the train after us. I climbed out of the train after three hours feeling drained and dreading the trip back!
This year I had high hopes though; we streamlined the luggage and dumped the pushchair. Away we headed with a lighter load and a plan. Instead of the pushchair we had three carriers, a ring sling, a full buckles and a half buckles.
The ring sling is a 'quick-up' carrier, perfect for travelling on the train as you don't need huge amounts of room to put it on and it folds down into a toddler sized pillow (thankfully the little one slept for 90 minutes each way).
The full-buckles is Daddy's, we had it specially made for him, it is great for days out where either one of us will be carrying, up high on the back for exploring and snuggled on the front for naps.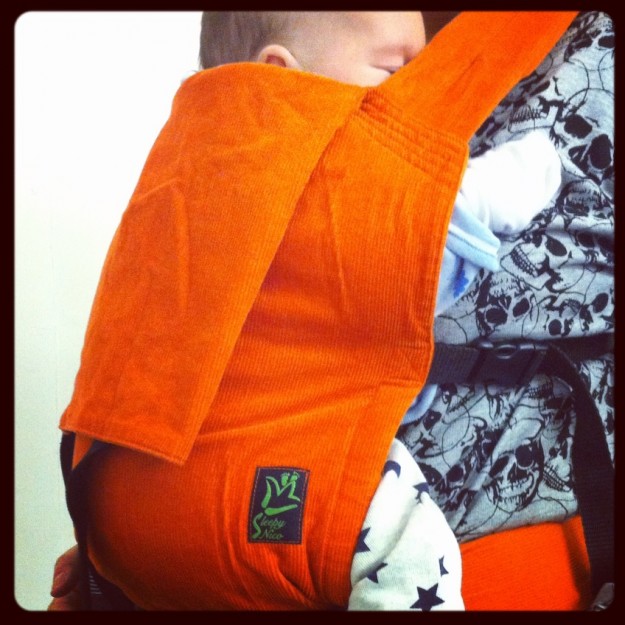 The half buckles for me, I made this one specifically for me, so it's a perfect fit with broad wrap straps to support babies weight on my shoulders and a snug waist, which doesn't supply the dreaded muffin top! This one is my go to for back carries as I can adjust the straps easily for higher carries.
Ten days, we managed without a pushchair, without worrying about the trip home. The trips into the city centre were easy with no fighting for space on the buses, the little man could jump down whenever we could let him. He is a walker and will happily try to walk anywhere, it will take three to four times as long to get there, but he will walk it. The trip home was as uneventful and calm as the trip there, my dread of the return trip disappeared on the third day and a calm and happy mummy spent the remainder of the holiday smiling and enjoying her time with her boys.