If you're expecting a baby in July, August or September 2016 (or near enough!), please come to The Old Dairy (just past Crouch Hill station). 1-3 Crouch Hill, N4 4AP, on Wednesday 29th June from 8pm.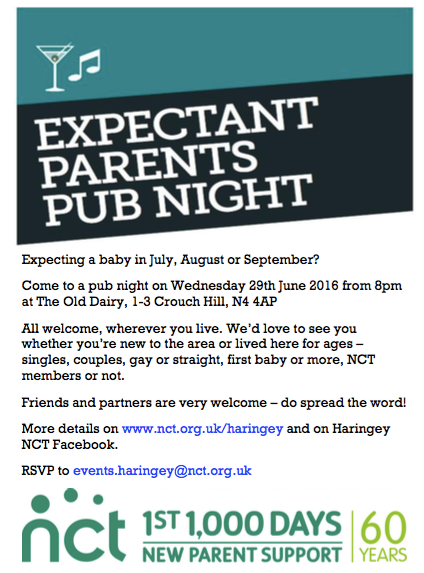 This free and relaxed social event is a chance to share a drink with others whose babies are due around the same time as you, make new friends and perhaps exchange contact details. All welcome, wherever you live, NCT members or not - friends and partners very welcome, but also feel free to come by yourself. Haringey NCT volunteers will be there to make sure all goes smoothly and to answer any questions about life with a baby in Haringey.
We will have a reserved area in the pub, so please do RSVP so we can make sure we have enough space. Please email Chelsea on events.haringey@nct.org.uk There is also a Facebook event page.
We also have a private Facebook group for Mums and Dads of babies due in July, August and September 2016 so you can post your questions, rants, worries, joys, tears, chuckles, suggestions, events, calls for coffee, park meet ups, walking dates...anything! So even if you can't make the evening, you can still get into contact with all the other local parents expecting the same time as you. Please contact Alice on membership.haringey@nct.org.uk to be added to the group.